Timboard
Timboard Building
Market surveys and interviews with regulatory bodies (architects' offices) have generated a great deal of interest in our solid board material in general, and we have specifically decided to start the project by launching Timboard Building within three product areas: Roof Base Boards, Wind Protection Boards, Joist Boards.

Timboard is a board product with unique properties. During our initial tests, the board proved to have excellent properties in terms of strength, damp and mould resistance, shape stability and durability.
The board is easy to adapt and shape on site, furthermore the board is foldable for a flexible and more secured handling during the mounting.

A covering of 3,25 m² only weighs 5,3 kg, which contributes to excellent ergonomics. In order to further simplify the cover, the boards are printed with suitable overlap and nailing dimensions.

We are convinced that Timboard will offer the construction sector added value at every stage.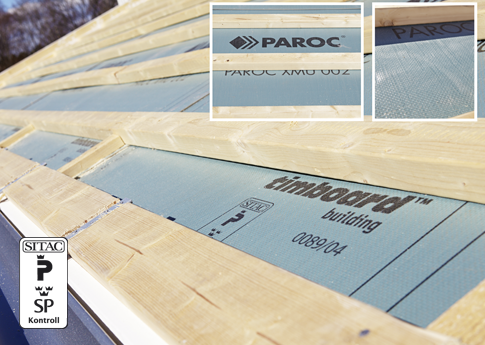 Timboard Furniture

Smurfit Kappa has developed Timboard™, a special type of solid board, specifically tailored to the wishes of the furniture industry.

Timboard™ is easily foldable, has a smooth surface (which is even suitable for high quality printing), and is extremely strong. The board can easily be combined with other materials - for example it can be laminated with decor papers in the exact same colour as other furniture parts.

As the health- and environmental regulations are changing rapidly, the above mentioned characteristics are not the only benefits of Timboard™; Timboard™ is 100% recyclable. Furthermore, the board is formaldehyde free. This makes Timboard™ to the environmentally friendly as well as the healthy choice!

The unique material characteristics of Timboard ™ make it suitable for various industries. There are two characteristics, however, that make the board particularly useful for the Ready To Assemble (RTA) furniture industry; The possibility to create an extraordinary high quality folding line compared to traditional panel material and the possibility to laminate Timboard™ with decor papers that have the exact same colour as the other furniture parts, leading to minimal shade difference.